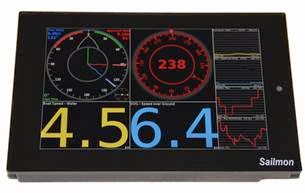 Making its world debut at METS next week is the new Sailmon RI70W a new high performance touch screen instrument for the race boat market
A smaller, version of the proven Sailmon MM104LP mast mounted instrument the ultra-bright sunlight readable 7 widescreen display features a saltwater-proof touchscreen for easy use by helmsman or crew.
It also incorporates all the features of the larger MM104LP, including the race computer and software, plus it can be used to calibrate, set up and control a complete Sailmon instrument system.
Mounted at a helm console or navigation station and integrated with other Sailmon devices on larger yachts or installed in the cockpit of smaller racing boats and used independently, the RI70W also incorporates an integral WiFi access point, very useful when using WiFi enabled devices on deck or for extending the WiFi system on a carbon boat.
The unit has a completely flat face and is enclosed in a rugged, waterproof (IP67), black anodised, marine grade aluminium box.
The RI70W opens up a vast range of new possibilities for a racing yacht. Like all the Sailmon Instruments, the RI70W is completely configurable.  The yacht's navigation and performance data can be displayed in analogue, digital or graphical format.
The RI70W comes with an integral race-processor and grand-prix level software. All the data input is processed on board the Sailmon instrument.
The RI70W is €2,499 ex VAT and is available ex stock from mid-January 2014 from Eurotask a