Making its official debut at the Cannes boat show 2014 is Sanlorenzo's largest planing hulled yacht and new flagship in its class, the 37-metre SL118.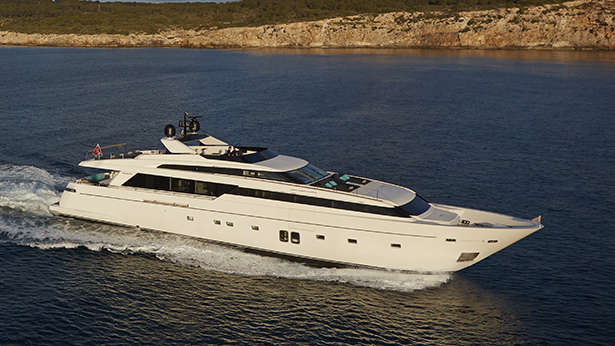 The yacht, which is built of fibreglass and has accommodation for 10 passengers and five crew, recalls the traditional features of the SL line but with larger spaces and advanced solutions in numerous areas.
These improvements include the wide hull and a superstructure that allows a better use of space at the bow inside the lower deck, while allowing external passageways to be relocated from outside to inside the deckhouse.
In accordance with Sanlorenzo's made-to-measure tradition, the interior of this first boat was designed according to the requests of its owner, and feature a modern style and an innovative space concept. Insulated glass used is used in the lower deck bulkheads, dividing cabins but allowing light to spread throughout the rooms giving the immediate perception of yacht large size. Acoustic insulation and privacy has been achieved by fitting curtains inside the glass.
Twin MTU 16V 2000 M94 engines give the SL118 a top speed of 28 knots, a cruising speed of 24 knots gives a range of 638 nautical miles, while an economical cruising speed of 12 knots extends this to 1,845 nautical miles.