Spanish superyacht refit facility STP Palma has confirmed a 27m vessel on which refit companies were doing maintenance work caught fire in the yard last week.
"Accidentally, the yacht started burning around 8:20pm when it was being repaired and painted, so this probably could be the reason for the fire," Joan Rosselló, director of STP Palma, told SuperyachtNews.com. "The fire spread out very quickly and STP's emergencies team activated the emergency protocol and after no more than two hours the fire was extinguished."
Despite Rosselló's speculation as to the cause of the fire, he confirmed there is at present no further knowledge about the cause of the fire, which is currently under investigation by police.
Due to fast reactions from the shipyard and local emergency services, no other vessels were damaged in the fire and no one was injured, explained Rosselló: "Thanks to … safety measurements, nobody was injured or intoxicated and no other vessels were harmed."
The equipment for emergencies, and the emergency team, "acted in an exemplary way, following our protocol with great efficiency," explained Rosselló. "Our own fire equipment and three more units from Palma, besides ambulances of the emergency services, attended."
In February 2010 a yacht of the same size, II Sovereign, also caught fire at the Spanish refit facility.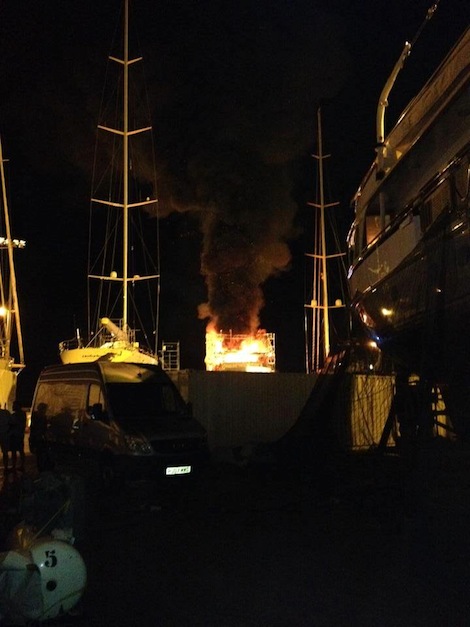 This photograph of the fire was posted to Facebook by Bill Haynie